Halloween and autumn items are finally appearing in stores all over! We decided to compile a quick shopping list of our favorite skull themed accents for your home that could be used year round to add to your spooky decor.
We chose items that appeared to be made of quality materials and were interesting and unique- no dollar store skull garland or cheap spray glitter finishes here. The trick to using "seasonal" decor year round is mixing it in with your existing pieces and selecting high quality, visually interesting, and useful items- rather than flimsy decorations meant to last one season.
We've also included shopping links for each. 😉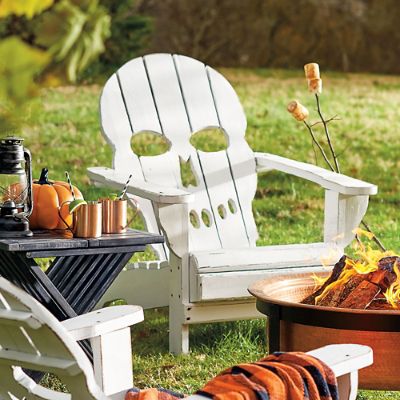 Skull Adirondack Chairs! We love the idea of these simple wooden chairs placed out on the deck or in the backyard year round. They're the perfect spooky touch to an otherwise "normal" looking house (we can't all live in half decayed Gothic castles after all). Beware they are frightfully expensive at that link, maybe someone has a carpenter friend who could pull these off?
Antiqued silver skull led lights to hang above your bed! The textures on these make them seem more special and "mature" than using the ubiquitous flat color ones from the Halloween aisle. I'd love them tucked into my somewhat dark closet space, just to add some extra light and style to it!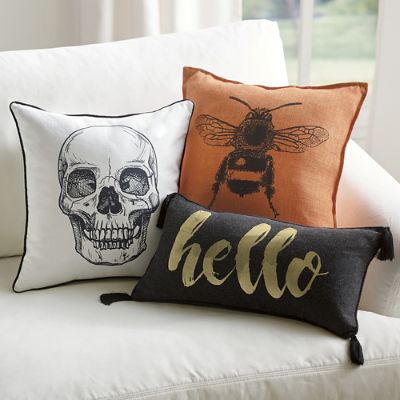 Skull pillows are everywhere this fall! Love these skull and bee styles from Grandin Road. Our favorite is this fancy beaded one from Pier1, it just looks beautiful and so unique!
This anatomical illustration wall canvas would look awesome as a focal point in your living room! It's also super affordable from Target!
These simple black skull planters would be great mixed into a shelf full of other flat color planters in the window. They're subtle enough to not look like you shop exclusively for your home in October. 😉
An adorable shag rug in a skull theme would look great under your favorite chair or by the bed! Available on Pier1's site.
Have you seen any cool Halloween decorations this year you can incorporate year round? Let us know in a comment below! 🙂
-Taeden