Halloween season is always the most fun for shopping for spooky home decor! As a 30-something living alone I kind of don't want twinkly orange lights and plastic pumpkins about year round (just for 8 weeks every fall). However my taste is still towards the eerier end of things and fall can really be great for finding special touches to bring Halloween vibes into my space without looking like I forgot to take down my seasonal decorations.
I thought it'd be fun to share some of my favorite Halloween home decor sightings from online shops (mainly North American ones, sorry friends outside of this continent) this year that would be perfect additions to spooky home decor style year round! I have tried to include links for these goodies too in case your home needs some Halloween charm.
Black Leaf Garland! I actually have an oak leaf variation of this type of garland hanging in my living room year round, I think it's a bit fancier than the fall colors type fake leaves you can find, and it fancies up my wall collage of oddities/bits.
Skull Cake Mold! Oh man there are so many holidays calling for a skull shaped cake!
Love these Eyeball Orbs from Grandin Road! They'd be really lovely year round tucked amongst antiques and oddity collections. They're sort of the fancy upgrade to those bags of plastic eyeballs the dollar store carries this time of year.
These light up "mercury" style glass pumpkins would be a great way to add some ambient lighting to your space without strings of Xmas-tree lights hanging everywhere. They look so delicate and fancy and their shapes are subtle enough to not seem like seasonal-specific decor.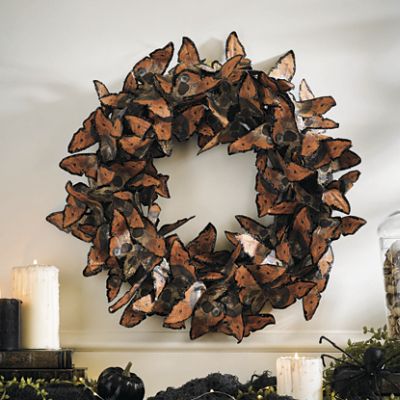 This paper butterflies wreath would look amazing in a Forest Witch feeling sort of space. It'd look amazing on the wall behind the bed or above a doorway.
Never More pillow from Target. Maybe not the most subtle spooky decor touch but it's still neat! They had a few Halloween themed pillows this year on their site that'd be great in between regular pillows on your couch year round.
Apothecary garland with a neat antique feel! This could be so good worked into a room. It's a little more over the top than some of the options here but I love the illustrations on it.
These hand shaped candle holders are really interesting! My eye keeps going to things that'd suit my living room mainly, but these are perfectly eerie. I'd love to put the white one beside a few white pillar candles.
Actual porcelain skull themed dishes at Target! These don't suit me these days but I know some of you will LOVE the skill and lace motifs. I'd like to grab a couple of the larger style to use as serving dishes at my upcoming Halloween birthday party! 😉
What are your favorite Halloween decor bits this year? Have you found anything amazing?
-Taeden