We're giddy for all things Halloween this time of year! Bring on the candy corn and black glitter. For spooky-inclined folks autumn is the best time to shop for home decor items, and if you're clever about your choices these Halloween pieces can work year round in Victorian, Gothic, or just eccentric spaces. Here are some of my favorite decor picks from around the web this year!
Tips for shopping for year-round spooky home decor that won't make your place look as though you just forgot to take down your dollarstore party decorations: Look for luxe materials- ceramic, glass, fabric etc- the better quality material the item is made from the less "seasonal decoration" it seems. Mix seasonal decor items in amongst "regular" decor and arrangements, this adds eerie personal touches to your crafted space.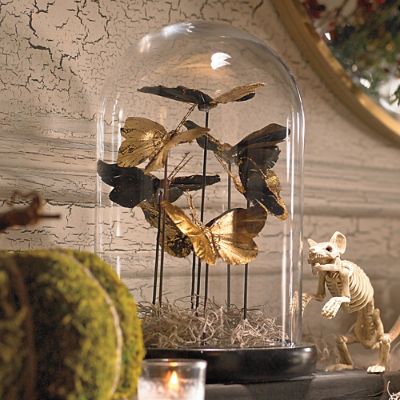 Butterfly Display- I love the tattered Victorian feel of this butterflies-under-glass display from the amazing Grandin Road. It'd look great in a Victorian inspired apartment or any bohemian spooky space.
Who doesn't need a Coffin Candy Dish?! Yes, I actually did order this one already. 😉 It's a good size for jewelry year round and just so pretty.
These skull wine glasses from Target are absolutely gorgeous. Unlike a lot of seasonal cups they aren't made from some questionable resin and molded to look like something out of the video for a shabby metal band. The subtle skulls are perfect and size makes them ideal as cups year round!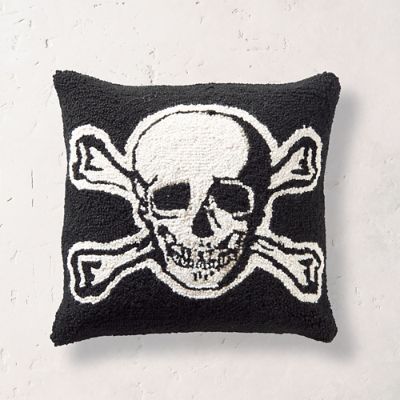 Add some classic spooky elements to your bedroom or living room with this Skull and Crossbones pillow from Grandin Road. I love that it's hooked-wool which gives it a vintage feel, and definitely doesn't scream "found in Halloween aisle"!
This Bat Doormat from Pier1 is so perfect! Would make such a nice statement at the entry way of basically anywhere with a door to the outside….
There are so many excellent spooky coasters out everywhere this year! I really like these beaded jack-o-lanterns from Pier1, they seem fancy but are still simple and cute.
Have you seen any excellent Halloween decor ideas this year?
-Taeden