Lace is ubiquitous in romantic Gothic and Lolita fashion! It's charming and sweet, and can be the little touch that makes a piece a favorite. However there are so many kinds of lace it can be somewhat overwhelming to know what you're getting when you read the description in a web shop.
Here's a quick guide to some of the main types of lace and how they're made, it will help with shopping or crafting mainly. There are variations and other terms for all of these types of lace, so this is not a comprehensive list- more just a guide to some of the common types of lace seen in clothing of various eras and subcultures. 🙂
Cluny Lace- Often seen in antique garments, it's a "bobbin lace" which means it's made by twisting or braiding thread, it is one of the oldest types of lace and can be weaved by hand. The motifs and patterns in the lace are connected by bars/plaits rather than a mesh, they can be fairly simple (like in the example above) or very detailled. The threads are usually cotton. The end result is a soft cotton lace with a lovely pattern that is soft to the touch. This lace is common in older lolita garments and is still in use today by many frilly designers.
Eyelet Lace– Made of cotton broadcloth or 100% cotton fabric it's sometimes pre-gathered or flat, with a finished scalloped edge (sometimes both top/bottom edges are finished). Eyelet lace is characterized by little decorative holes in the lace (finished with thread), often arranged in a repeating pattern or cluster, resembling flowers or geometric gatherings. This type of lace is more durable than cluny or embroidered types so is often seen in less fancy clothing. Gloomth uses this lace on our "Sugar Cookie" top and "Amaryllis" skirt.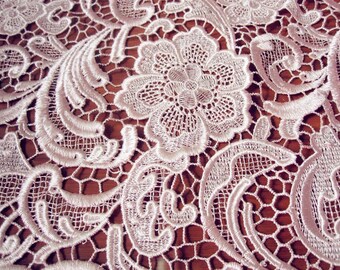 Guipure Lace- Is less common than the previous two but you've probably seen it used on bridal gowns and formal wear. It's a bobbin lace that is identified by a thicker band or outline to the patterns than seen in cluny. It has a heavier look to it and is often more intricate than cluny. It's much more weighty and sturdy than cluny lace so it's used for overlays rather than accent trim, therefore this lace is usually quite wide (almost the same width as a fabric) with a scalloped edge. It can be made of polyester and synthetic fibers for a range of colors, and is often machine woven and very elaborate these days.
Raschel Lace- Is a very common machine made lace. Usually seen with a netting base with a woven floral pattern throughout (though the pattern can be just about anything). Often this lace is made inexpensively and thus has a rough or stiff feel to it. It can be any color or width. Seen most often in costume garments these days.
Embroidered Lace- Features a netting/tulle/organza base with cotton or nylon thread embroidery in a decorative pattern (florals, geometrics, sometimes the designer's logo). Can be made in any color since it's machine woven from nylon or polyester usually. Very durable and can be quite pretty on the right garment. Gloomth uses 3 colors of embroidered lace in many of our garments.
Venise Lace- A Gothic staple! This machine made (though it was originally made by hand) woven lace is full of intricate patterns and scalloped or decorative edges. Similar to guipure laces in that the pattern is often outlined and heavier than other styles, but venise is seen primarily in trims and accent laces rather than a full fabric of it. Also often used as appliques on formal wear.
 Chemical Lace- Is machine made, it features patterns/motifs embroidered onto a thin fabric that is then dissolved in a chemical to leave the lace intact. A little less common than other types since the manufacturing process is not at all environmentally sound. Harder to identify by pattern as it uses many of the same motifs as venise or guipure, though is often more complex and delicate looking due to the way it's made.
Hopefully this guide will help you identify laces! We're adding some new lace options to the shop this year as well. 🙂
-Taeden